Personal details
I was born in London in 1948 and have been making pots since I was eighteen. I moved to Brighton in 1975 and have had several studios during my forty years in the city. I now work from a studio in Richmond Street. In 2010 I was selected as a Professional Member of The Craft Potters Association.[I now have a page on their website, visit it now at www.cpaceramics.co.uk. Go to the gallery page and enter my surname] Over the years I have featured in many exhibitions, and I currently sell my ceramics in several Brighton galleries, and in galleries throughout England.
Methods
I throw and hand-build in various stoneware clays, making bowls, vases and sculptural forms. However, my main output is concentrated on small-scale porcelain bowls. They are exclusively hand thrown. Because of the small size of my porcelain pieces, they are often thrown 'off the hump', which involves throwing up to nine or ten bowls from the top of a one kilogram cone of porcelain. After throwing and subsequent turning, I often distort the piece while it is still malleable, which increases the organic qualities of the work. I am inspired by natural form, colours and textures.
I then bisque fire the pots to 1050°C, and finally glaze them in one of a range of semi-matt glazes, which I prefer for their tactile and visual qualities. All the pots are then re-fired to temperatures between 1230°C and 1260°C, depending on the glaze used. After firing, pots are often further decorated with geometric shapes using gold and copper leaf as well as various lustres.
Teaching
I teach ceramics two days a week at a day centre for adults with physical disabilities in Brighton. I enjoy the opportunities that this gives me to inspire people who never thought that they would be able to create beautiful ceramics, increasing their self-worth.
Over the years I have run several evening classes in the city.
Press News
I recently donated a pot to the Craft Potters Association as part of their fund-raising 2014 Auction.The pot [ black, with a blue circle motif ] sold and a photograph of it was used in the September/October issue of Ceramic Review.
See below, [ middle pot, third row ] :
.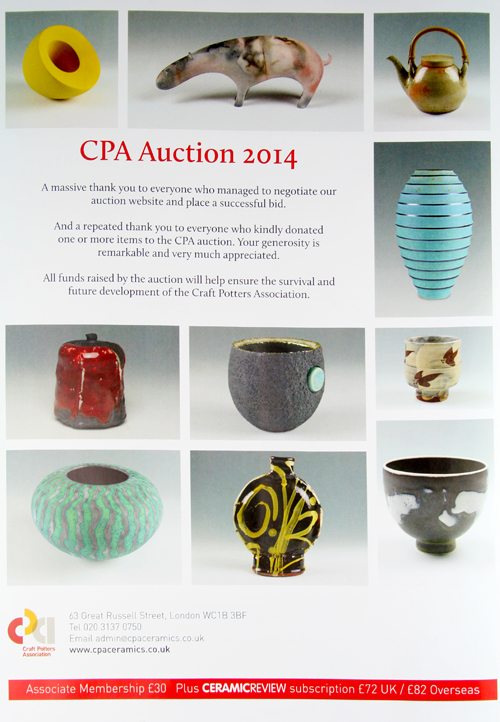 CPA Gallery
This Febuary I am getting ready a range of pieces in turquoise to show at the CPA Gallery in London. This follows on from a successful few months at the end of last year showing work as part of my 'rotation', where professional CPA members are allowed to show work.
Exhibitions
Exhibited in three Open houses Brighton May 2013
Two Art Junky shows at the Phoenix Centre Brighton 2013
Sussex Arts Collective Christmas Show Lewes 2013
Two Art Junky shows at the Phoenix Centre Brighton 2012
Exhibited in three Open houses Brighton May 2012
Sussex Arts Collective Christmas Show Lewes 2012
Sussex Arts Collective Summer Show Brighton 2011
Two Art Junky shows at the Phoenix Centre Brighton 2011
Exhibited in three Open Houses Brighton May 2011
Exhibited in two Open Houses Brighton May 2010
Rye Art Gallery Summer Show 2010
Exhibited in three Open Houses Brighton May 2009
Exhibited in four Open Houses Brighton May 2008
Pyramid Gallery Christmas Show 2007
Pyramid Gallery Summer Show 2007
Exhibited in three Open Houses Brighton May 2007
HQ Gallery ArtWave Show 2006
Exhibited in three Open Houses Brighton May 2006
Start Gallery Christmas Show 2006
Pyramid Gallery Summer Show 2006
Start Gallery Christmas Show 2005
Bettles Gallery Christmas Show 2005
Exhibited in three Open Houses Brighton May 2005
Exhibited in two Open Houses Brighton May 2004
Alpha House Gallery Christmas Show 2003
Bond Street Gallery Brighton, Solo 1997
Bond Street Gallery Brighton, Solo 1996
Bond Street Gallery Brighton, Solo 1995
Gallery Blue St Ives, Solo 1993
Index Gallery London, Solo 1992
Gallery Blue St Ives Christmas Show 1992
Index Gallery London, Solo 1991
Smith Gallery London, Solo 1990

Retail Outlets
Click on the www. links to visit the website
Contemporary Ceramics Centre, 63 Great Russell Street London WC1B 3BF www.cpaceramics.co.uk
Brighton Designers and Makers, Brighton
Star Gallery, Lewes
Montpelier Gallery, Stratford-upon-Avon
Pyramid Gallery, York www.pyramidgallery.com
Gallery Nine, Bath www.gallerynine.co.uk
Out of the Blue, Marazion www.out-of-the-blue-gallery.co.uk
Junction Art Gallery, Woodstock, Oxfordshire www.junctionartgallery.co.uk

Phil Lyddon 2016